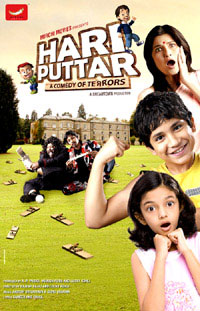 http://www.bollywoodbx.com/assets/uploads/old_files/films/15/2_865_lg.jpg
Story
The movie is about a little boy Hari Prasad Dhoonda who is son of Prof. Dhoonda. Professor has been assigned to work for a confidential defence project and he has to move to London in a remote location for his secret project. The family shifts from India to U.K. and on the day of arrival of Hari to London?s residence, two families come to meet the Dhoonda family with their kids.

One of the families is of Hari?s aunt and uncle DK and the second family is of DK?s boss?. The Dhoonda house gets filled with not less then 10 kids. The kids ridicule and rag Hari on his first day at his own residence and Hari starts feeling lonely and unwanted. Then DK arranges for a vacation for the families and as the families are preparing to take off from the home, Hari and his cousin Tuk Tuk are punished by Hari?s mother to stay in an attic bedroom.

The next day the families leave for vacations and both Hari and Tuk Tuk accidentally stay back at the house, but they are happy to get a freedom as the people have left.

The group of families going on vacation identify in half of their way that the two kids Hari and Tuk Tuk were absent from the group. By the time a group of crooks headed by Kali Mirchi assign burglars to steal the secret formulae created by Prof Dhoonda from his house.

Hari somehow discovers the plan of the burglars and he uses his brain to make plan to fight the thieves. Hari gets a chance to be confident and prove his abilities and he make tactics not only to stop the burglars from stealing the formula but also captures the two thieves.

Hari?s mother returns back leaving the vacation plan midway and finds her kid Hari changed to be a confident and brilliant child.