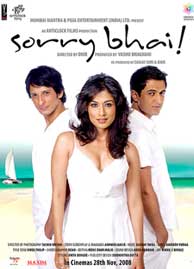 http://www.bollywoodbx.com/assets/uploads/old_files/films/33/2_983_lg.jpg
Story
Director Onir has always defied stereotypes. Recall his first two films -- MY BROTHER NIKHIL and BAS EK PAL. With SORRY BHAI!, Onir takes the road less travelled.

'Come, fall in love... with you brother's bride', says the tagline of the film. Agreed, there must've been real-life instances of a guy falling in love with his bhabhi-to-be, but as a cinematic experience, a theme like this caters to a niche audience. The traditional ones, even with a modern outlook towards life, might not approve of this story in the first place.

As a movie, SORRY BHAI! has some interesting moments and the ensemble star cast pitches in real performances too. But the impression you get is that Onir didn't know how to tie it all up, to conclude the film convincingly.

Siddharth [Sharman Joshi], a shy young scientist, travels to Mauritius for his elder brother Harsh's [Sanjay Suri] wedding. Accompanying him is his Ma [Shabana Azmi], a reluctant traveller since she is angry at Harsh for deciding to get married without consulting them. Also travelling is Siddharth's cheery father [Boman Irani].

Harsh, pre-occupied with work, can spend little time with his family and it is left to his fiancee Aaliyah [Chitrangda Singh] to show them around Mauritius before the wedding. However, Ma's anger at Harsh ensures that she takes an instant dislike for Aaliyah and it is Aaliyah and Siddharth who end up spending loads of time together.

This, added to the fact that Aaliyah feels neglected by the career-obsessed Harsh, leads to them being irresistibly drawn to each other. A horrified Siddharth battles this attraction desperately, but Aaliyah has fallen madly in love and pursues him with single-minded determination.

When Siddharth's defences start crumbling and Ma starts getting suspicious, all hell breaks loose in the family.

SORRY BHAI! may be an interesting concept, but it doesn't turn out to be an interesting film in entirety. For it to be a complete film, it needed a tight screenplay, which is sorely missing here.

However, a few sequences have been handled deftly. Note the sequences between Sharman and Chitrangda and the gradual attraction. Even the love making sequence in the store catches you by surprise. Again, recall the sequences between Shabana and Chitrangda. You can feel the tension.

But Onir gets too unconventional this time. Sure, times are changing rapidly, but the fact remains that most of us are extremely orthodox when it comes to relationships. And that's precisely why a film like SORRY BHAI! might not find many takers.

The conclusion to the tale is also least convincing. It may seem perfect since the mother [Shabana] makes her younger son [Sharman] swear on her life, but when it comes to matters of the heart, all rules [and relations] take a backseat, nothing else matters actually. The music, like Onir's previous BAS EK PAL, is soothing, but how one wishes it would've been promoted aggressively too. Cinematography is striking.

In the acting department, Sharman Joshi steals the show. He plays the geek who loses his heart to his prospective sister-in-law with rare understanding. This is his finest performance so far. Chitrangda is a complete natural and despite being pitted against a powerful actor like Shabana, stands on her feet. It's the chemistry between Sharman and Chitrangda that is the film's saving grace. Shabana is terrific. There're some [tough] roles only Shabana can perform and this is one of those. Boman is wonderful. The moments between Shabana and Boman are magical. Sanjay Suri is competent, but gets sidelined midway through the film.

On the whole, SORRY BHAI! is too bold and startling for the Indian audiences. At the box-office, it caters to a tiny/miniscule audience -- a handful of plexes in a handful of cities. And those numbers would be disheartening as well!